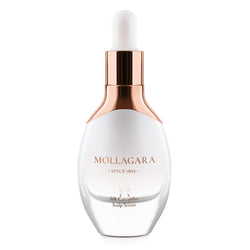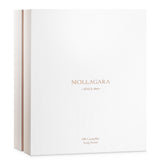 Mollagara
Silk Caterpillar Scalp Serum
Original leave-in silk replenishing and reconstructive treatment, Silk Catapillar Scalp Serum with activities from Guarana plants stimulates hair follicles and maintains the hair shaft from overtreatment. It is applicable for all hair types that can benefit from its restoration, and smoothing scalp and new growing hair.
Activation of Sericin proteins provides protection, strength, while allowing the bleaching process to occur. It allows hair to take on any color, shade, and tone while maintaining healthy scalp. Serum preserves from damage and repairs, smooths, and stimulates hair growth. Silk differs from other physiological proteins by having a high concentration of serine, an amino acid. It provides deep hydration and nourishing the scalp skin while supplying energy for cell growth.
Beneficial abilities of proteins is to fix water on the epidermis' surface and create a shielding layer that prevents skin from dehydration. Promotes healthier, thicker individual strands. Made through the recycling of products left from the silk fabric industry, saving the Earth from waste and eco-friendly processing.
Apply few dops of the serum directly to your clean dry scalp.
Dry application allows formula to have direct contact with the scalp and hair.
Gently massage the product in circular motion with your fingertips to nourish the product applied for scalp stimulation.
After applying the product do not rinse or wash your hair/scalp as the product will be activating its ingredients for the hair loss action.
To achieve the best results, it is highly recommended to apply the serum 3 times a week for 2 months for recovering treatment purposes.
As for the scalp care you can apply the serum once a week for 1 month.
Product can be applied in the morning and at night.